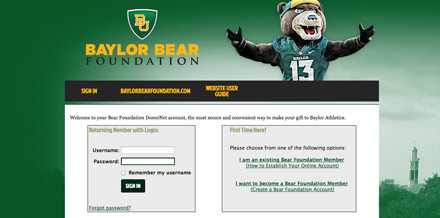 Use our DonorNet member portal to make a donation, set up a payment plan, update your contact info and change email preferences. If you're joining for the first time, start by creating an account and making a gift at your desired membership level.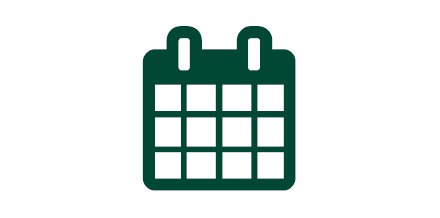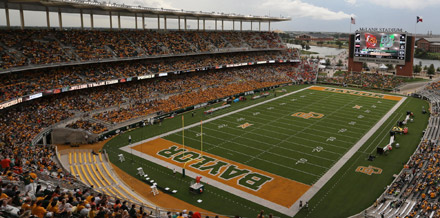 The Baylor football reseating process begins April 3. For all 2018 season ticket holders, this process will serve as your annual ticket renewal. Start preparing for the process now by visiting our helpful reseating website: BaylorBears.com/Reseating
Join the Bear Foundation
In addition to providing scholarships and support to student-athletes and Baylor athletics, contributions to the Baylor Bear Foundation provide donors with many other exclusive benefits. Some of these include preferred parking at athletic events; the opportunity to purchase priority football, men's basketball and women's basketball season tickets, away game tickets and post-season tickets; exclusive communications and updates from across Baylor Athletics; and a community of fellow supporters. The Bear Foundation membership year runs from June 1 through May 31.
Bear Foundation Timeline
APRIL 3
2019 Non-Premium Football Reseating Process Begins
MAY 31
Final Deadline to Complete Payment on 2018-19 Commitments
LATE MAY
2019-20 Basketball Ticket Renewal Process Begins
JUNE 1
2019-20 Bear Foundation Membership Year Begins
JUNE 28
2019-20 BBF Payment Scheduled or 50% Completed to Receive 2-10 Football Season Tickets